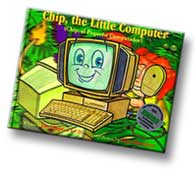 Chip, the Little Computer


is an endearing story written side by side in both English and Spanish. Chip has a dream, to help children learn new things and to make them laugh and play. His story starts out in a cold dark warehouse. After countless disappointments Chip is told by a wise old copy machine to have faith in his dream. He learns the power of determination that comes from believing in your dream no matter what happens. The story has a surprise ending.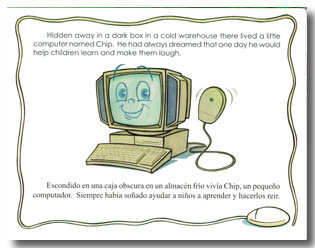 Chip, the Little Computer, Hardcover Storybook.

only $16.95 ea
Russ T. Nailz and other talented voice actors (Dr. Hope is one of them) act out Chip's story. In addition there are 5 original heart-warming and humorous tunes on this CD. Just click on the CD to hear some of the delightful tunes.
Chip, the Little Computer, CD

only $16.95 ea
Special Bundle--buy them together and save! A $33.90 value! only $24.95
This page sponsored by:


---
Reviews About
Chip, the Little Computer
Boone County News: "In a time when many toys are tossed aside the week after Christmas, this book will continue to bring smiles and perhaps even some intellectual stimulation."
Beavercreek News-Current: "Chip teaches kids the importance of perseverance."
Cantemos: "Chip, the Little Computer was very clearly written. The message it conveyed about patience and optimism was well presented. The Spanish text was as good as the English and the modern day character and setting is easy for children to relate to."
Maryville Daily Forum: "This is a good, educational book for children to read… It is very creative."
The Gazette- Cedar Rapids, IL: "Chip is a delightful role model for any youngster who is into computers."
The Green Bay Press-Gazette: "Chip, the Little Computer has an important message for children…"
Waycross Journal-Herald: "Young readers will enjoy learning the importance of believing in their dreams."
The Sunday Journal: "Reading gets high-tech with Chip, the little Computer...his purpose in computer life is to help children learn and make them laugh."


Holiday Bundle--buy both the CD and storybook together and save! A $33.90 value!