Who is Russ T. Nailz?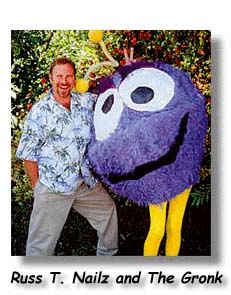 Russ T. Nailz has been the on camera talent, producer, writer and editor for events and specials for KUSI TV, A&E Network, KTTY TV, KFMB TV, and COX CABLE in San Diego. He has hosted, co-hosted, been the writer, producer, engineer and done character voices for XTRA FM radio in Southern California. In addition he has been the voice talent for Fuji Film, The Union Tribune, Sycuan Gaming and other radio commercials.

Russ T. Nailz is a talented stand up comedian and has been the OPENING ACT for GEORGE CARLIN, ROBIN WILLIAMS, JAY LENO, DENNIS MILLER, ROSEANNE, JIM CARREY, RAY CHARLES, PETER GABRIAL, KENNY LOGGINS and DONNA SUMMER.

Russ T. Nailz has been the HEADLINER at "THE IMPROV" Comedy Clubs, "THE COMEDY STORE" Comedy Clubs, THE RIVIERA HOTEL COMEDY CLUB, Las Vegas, THE TROPICANNA HOTEL COMEDY STOP, Las Vegas, not to mention numerous appearances at conventions, collages and comedy clubs through out the United States and Canada. He was recently the winner of the 3rd annual Laff-Off contest at THE IMPROV.

Russ T. Nailz is a skillful musician, singer and song writer. He writes clever and humorous songs and has performed them live at elementary schools throughout Southern California. He has recently teamed up with children's book author, Dr. Hope, and released "A Book on Tape" of Laughing Day. He co-wrote The Laughing Day Song with Dr. Hope and wrote four other original children's songs for this project.